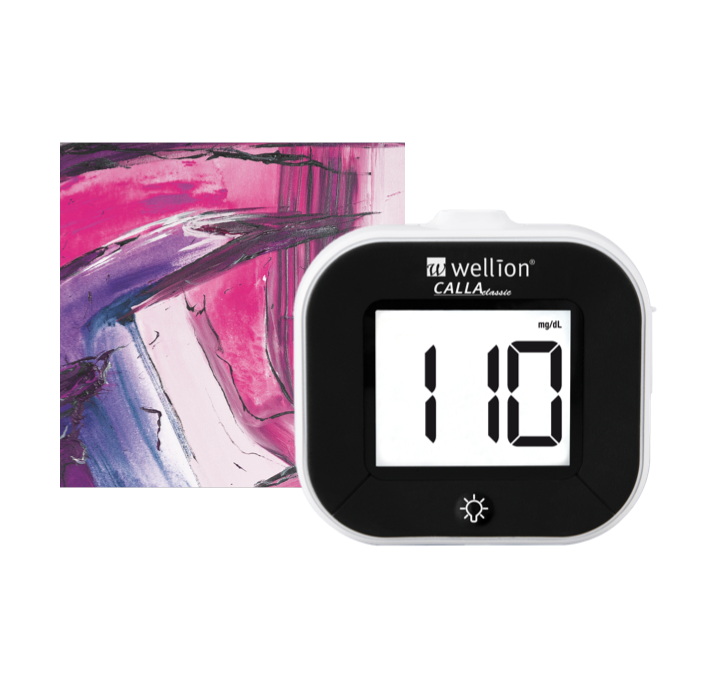 Blood Glucose Meter
particularly easy to use
Wellion CALLA Classic blood glucose meter
Completely without additional functions
Simply measure, done
Wellion CALLA Classic is a particularly simple blood glucose meter. The main focus during the development of the Wellion CALLA Classic measuring instrument was on ease of use, which is why we have no additional functions in this model. Only the last measured value is stored. If you press the light button, the last result will be displayed with backlight.

Simply measure, done: Insert the Wellion CALLA blood glucose test strip into the test strip slot to switch on the Wellion CALLA Classic meter. Using a fresh lancet and the Wellion lancing device, you obtain a small drop of blood at the fingertip, which you let the test strip tip suck into the reaction zone. There the current blood sugar value is measured and the Wellion CALLA blood sugar meter shows the result in large digits on the illuminated display.
The handy, unusual shape of the Wellion CALLA Classic blood glucose meter is an eye-catcher. The optimally readable and large display is in the centre, the non-slip coating makes it easier to suck in the blood, as the device remains securely in place during the measurement. Only 0.6 microliter blood requirement and 6 seconds measuring time ensure that the Wellion CALLA Classic can be measured easily, quickly and safely in everyday life.

The exact handling of the Wellion CALLA Classic blood glucose meter can be found in the booklet in our download area.

The Wellion CALLA Classic blood glucose meter is used with the Wellion CALLA Blood Sugar Teststrips.

The DIABASS - diabetes diary software is compatible with this meter (works without interface cable - manual input of data). It is possible to use a separate USB cable for data transfer, depending on the device. Our customer service will be happy to advise you. The patient version of DIABASS6 is free of charge and can be downloaded from https://www.diabass.de.
Order now