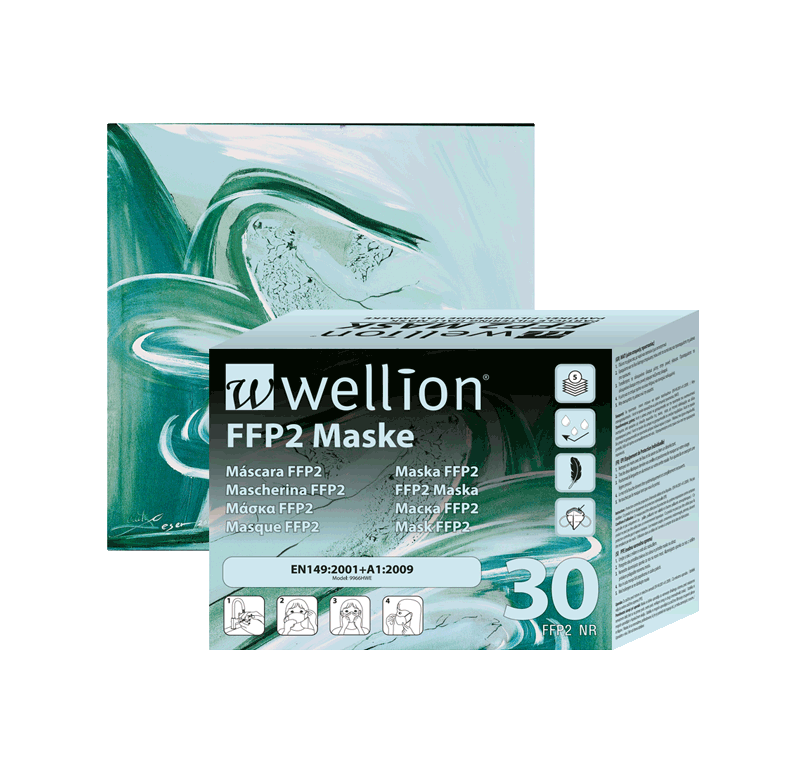 FFP2 Mask
Protection against aerosols (EN149:2001+A1:2009)
with nose clip
For protection against solid and liquid aerosols (EN149:2001+A1:2009)
Protects both the wearer and the environment
FFP means "filtering face piece" (English for particle filtering half mask). A tight-fitting Wellion FFP2 mask provides suitable protection against infectious aerosols. To ensure full filtering performance, the FPP2 mask must fit the face size and be properly fitted (over the mouth and nose, fit the nose clip to the bridge of the nose).
Wellion FFP2 masks naturally meet all the necessary quality characteristics - your safety is our concern: explicit designation as FFP2 mask, EN marking "EN149:2001+A1:2009", CE mark, four-digit number to identify the certifying test institute.
Each Wellion FFP2 mask is individually packaged to remain hygienic and safe until use.
protects against solid and liquid aerosols
soft nonwoven-fabric for wearing comfort
Easy Handling
Clean your hands with water and soap or with disinfectant.

Pull both fastening straps over your ears and fix the mask on your face.

Place the iron-noseclip on your nasal bridge. Adjust the iron-noseclip to the nasal bridge with light pressure.

Nose and mouth must be completely and consistently covered.

Do not touch the mask while wearing it.
Application:
For protection against solid and liquid aerosols (EN149:2001+A1:2009).

Do not reuse.

This product is intended as a Personal Protective Equipment (PPE).
Main components: Meltblown-nonwoven fabric, iron- noseclip
Precautions for use:
This mask can be used to protect the respiratory system from certain non-oily particulates (e.g. dust, pollen, non-volatile smog and other air pollutants).

This product cannot be used in hypoxic environment.

This product cannot be used for protection filtering of toxic gases and vapors.

Masks which are contaminated, damaged, expired etc. must be replaced by new ones.

Use within 5 years from date of manufacture.
Here the declaration of conformity for download.
Buy now