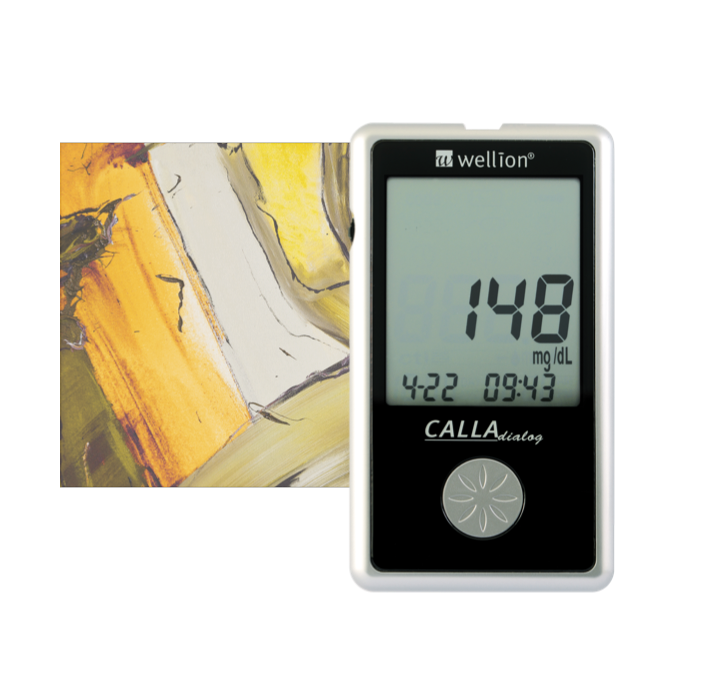 Blood Glucose Meter
Talking blood glucose meter
Wellion CALLA Dialog blood glucose meter
Reliable values, without coding
the talking blood glucose meter for blind and visually impaired people
Codeless blood glucose meter with voice output
The Wellion CALLA Dialog enables blind and visually impaired people to easily, reliably and accurately monitor their blood glucose levels. The Wellion CALLA Dialog blood glucose meter does not need to becoded, so all measurement results are safe and accurate. The measurement results are read out directly after the measurement by means of the speech function and can also be read off the large display.
The Wellion CALLA test strip is easy to handle due to its optimal size. Due to the noticeable differences between the top and bottom side and the front and back side, inserting the test strip into the blood glucose meter is easy and intuitive.
With the Wellion CALLA Dialog, average values of 7, 14 and 30 days can be displayed for a more accurate assessment of diabetes settings.

The exact handling of the Wellion CALLA Dialog glucose meter can be found in our download area.

The Wellion CALLA Dialog blood glucose meter is used with the Wellion CALLA Blood Sugar Teststrips.

The DIABASS - diabetes diary software is compatible with this meter (works without interface cable - manual input of data). It is possible to use a separate USB cable for data transfer, depending on the device. Our customer service will be happy to advise you. The patient version of DIABASS6 is free of charge and can be downloaded from https://www.diabass.de.
Order now