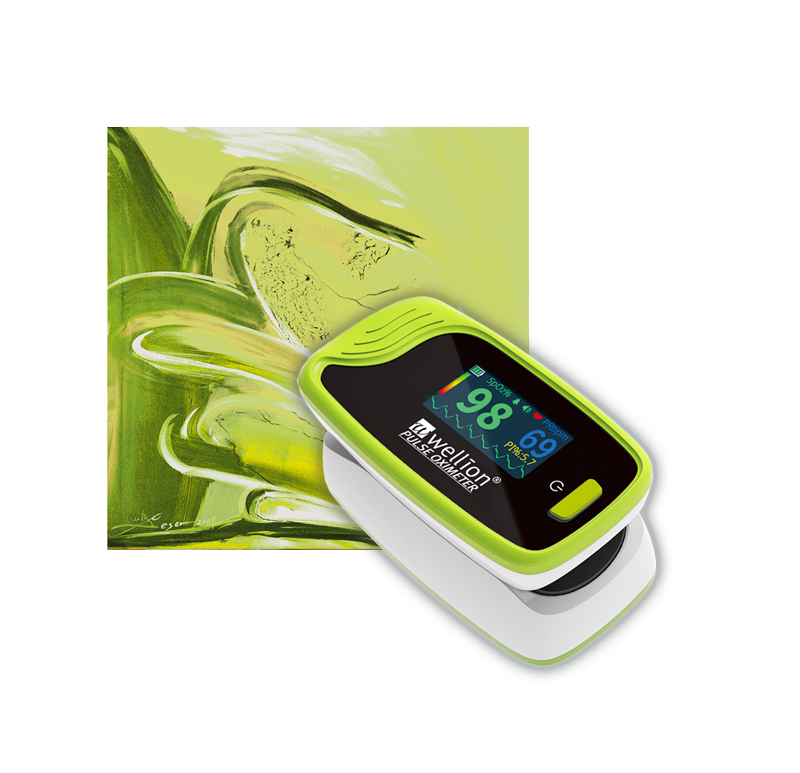 Wellion PULSE OXIMETER
oxygen saturation and pulse rate measurement
quick and accurate
Reliably measure oxygen saturation and pulse rate
Detect oxygen deficiency at an early stage
The Wellion PULSE OXIMETER is used to measure oxygen saturation and pulse rate through the finger, so that an oxygen deficiency can be detected at an early stage. In addition, the perfusion index is displayed. Optimal for people with respiratory diseases, heart failure, chronic obstructive pulmonary disease, covid-19 and bronchial asthma. The Wellion PULSE OXIMETER is small and light and can therefore be used in the family environment, health care as well as on the road, during activities at high altitudes (up to approx. 3000 m above sea level / 700 hPa), in sports medicine.
Comfortable finger clip, non-invasive (painless)
easy handling - insert finger and the measurement starts by itself
Colour display with graphic visualisation
Operating instructions
Insert a finger as far as possible into the rubberised finger slot of the Wellion PULSE OXIMETER (with the nail pointing upwards) before releasing the clamp. The measurement will start automatically after a few seconds. Your finger should remain still (not tremble) during the measurement.

Oxygen saturation and pulse rate are directly displayed on the rotatable colour display.
Oxygen saturation indicates what percentage of the total haemoglobin Hb in the blood is enriched with oxygen. In healthy people, oxygen saturation is in the range of ≥ 94%. Many factors can lower the oxygen saturation in human blood and lead to problems in oxygen supply:
Respiratory diseases

Malfunctions of self-regulation caused by anaesthesia,

trauma resulting from a major operation, and

some medical examinations
As a result, patients may experience symptoms such as migraine, nausea and loss of strength. Therefore, it is very important to know the oxygen saturation in time.
The perfusion index shows the blood flow value of your finger.
Features
Measurement of oxygen saturation (SpO2), pulse rate (PR) and perfusion index (PI)

Self-start after a few seconds or press the button on the front once

Change of display mode (by rotation)

Press and hold the button to change the brightness of the colour display (5 brightness levels)

Automatic switch-off after 5 seconds of inactivity

Strap and batteries included
The product is not suitable for continuous monitoring of parameters. It can be used before or after exercise - it is not recommended during exercise. The measurement results can be influenced by external dyes (such as nail polish, coloured skin care products, etc.).
Buy now