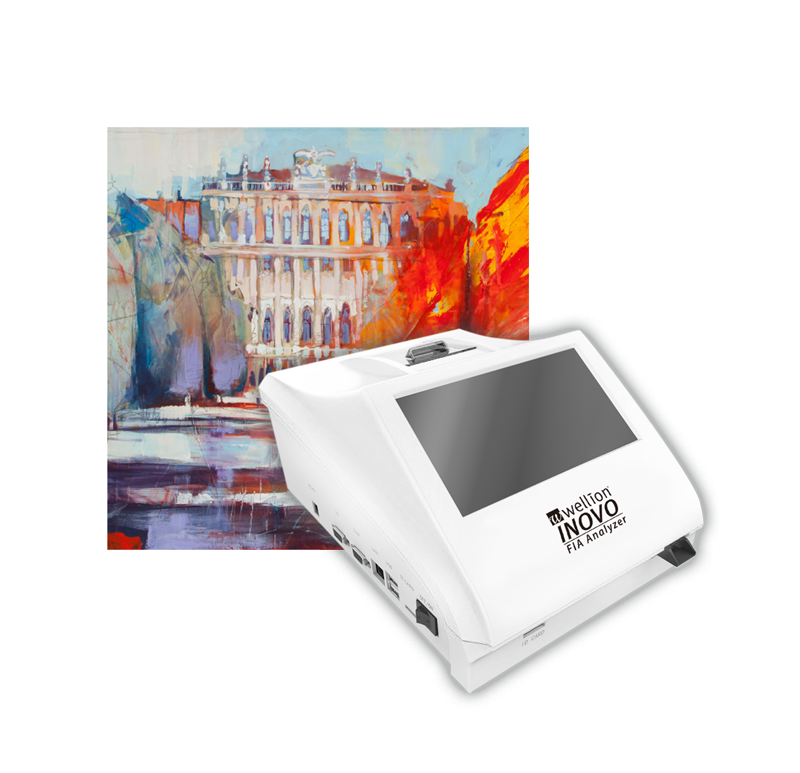 Wellion INOVO FIA Analyzer
SARS-CoV-2 antibody detection
in only 15 minutes
Wellion INOVO FIA Analyzer
SARS-CoV-2 antibody determination
Reliable test result in BAU/mL with only one finger prick in 15 min!
The Wellion INOVO FIA Analyzer in compact benchtop format allows a fast and easy SARS-CoV-2 antibody determination. With only one finger prick (20µl capillary blood) the evaluation can be done directly on site in only 15 minutes.
Quick

User-friendly - easy operation

Compact benchtop format

Easy on-site determination

Large, clear touch screen

Integrated thermal printer - results can be taken away immediately

3 different test options, depending on need and frequency

Standard

Quick

Serial test
SARS-CoV-2 antibody detection - The reliable test result to take home
Checking the immune response

Determination of SARS-CoV-2 S antibodies (spike antibodies*)

Result in only 15 minutes

No waiting time - evaluation right on the spot

Small amount of blood (20 µl)

Convenient measurement with capillary blood (finger prick with safety lancet)

Quantitative information in BAU/mL
Scheme of the different test procedures for the SARS-CoV-2 antibody test with the Wellion INOVO FIA Analyzer
Test preparation

Incubation and measurement

Standard (STD) - timecode 3:51

Instant - timecode 04:51

Batch - timecode 07:30
Specifications
Measurement of SARS-CoV-2 S antibodies*

Quantitative result in BAU/mL (= WHO standard)

Reliable - performance data for whole blood from finger prick:

Sensitivity: 98,22%

Specificity: >99,99%

Accuracy: 99,39%

25 tests/kit

24 months shelf life

Storage at room temperature

Calibration by code chip (included in test kit)
*Spike (S)-glycoprotein is the main target of neutralisation by SARS-CoV-2 antibodies and thus the basis for vaccine development.
Approved for professional use only.