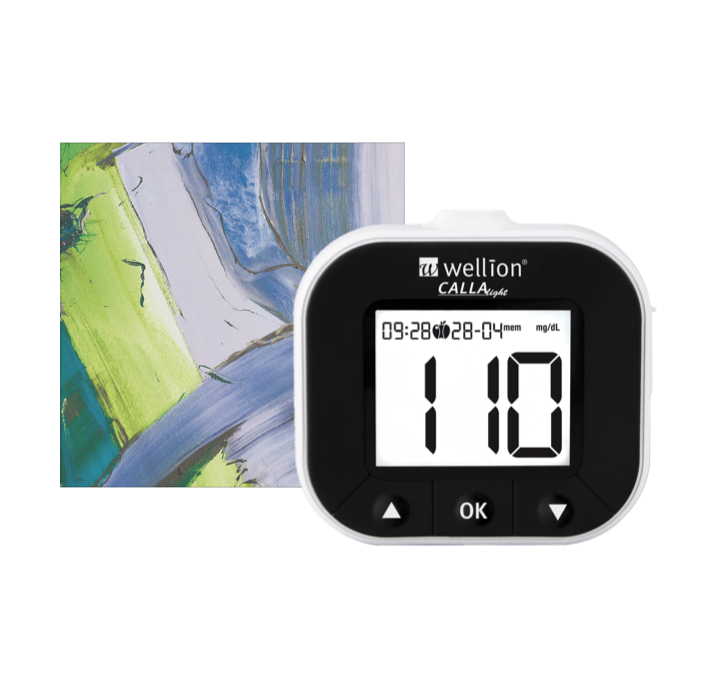 Blood Glucose Meter
Extra large numbers and backlight
Wellion CALLA Light blood glucose meter
Especially good legibility
Large illuminated display and very large digits
Easy to measure: Simply insert the Wellion CALLA blood glucose test strip into the test strip slot and the Wellion CALLA Light meter turns on automatically. Using a fresh lancet and the Wellion lancing device, you obtain a small drop of blood which you let the test strip tip suck into the reaction zone. There the current blood sugar value is measured from this drop. After the countdown, the Wellion CALLA blood glucose meter shows the result in large digits on the illuminated display.

Easy handling & good readability

The handy, unusual shape of the Wellion CALLA Light blood glucose meter is an eye-catcher. The optimally readable and large display is in the centre, the non-slip coating makes it easier to suck in the blood, as the device remains securely in place during the measurement.
For a better assessment of your blood glucose values over longer periods of time, you can assign a marker to your blood glucose value directly after the measurement (no marker, pre-eating marker, post-eating marker), which is also saved in the memory. In addition, average values of 1, 7, 14, 30, 60 and 90 days can be displayed. This additional information will help you and healthcare professionals to better assess your diabetes setting.
On the Wellion CALLA Light blood glucose meter you can set 3 individually adjustable audible alarms to remind you to measure your blood glucose. You can also set individual blood glucose limits forlow and high blood glucose. Blood sugar values that fall below or exceed these limits are marked on the display with "HYPO" or "HYPR". The factory default settings are 70 mg/dl for hypoglycemia and 250 mg/dl for hyperglycemia. These can be changed individually at any time. This alarm for hypo- or hyperglycaemia values leads to an increase in perception and thus ensures that the correct treatment measures are taken.
The memory of the Wellion CALLA Light blood glucose meter contains 500 readings with date, time and optionally set markers, which can be easily viewed and scrolled through using the arrow keys. The measurement results can be read particularly well from the backlit display, which is further facilitated by the particularly large numbers. The exceptionally good readability is a great help in everyday life for many people.

The exact handling of the Wellion CALLA Light glucose meter can be found in the owners booklet in our download area. More about Self Monitoring of Blood Glucose can be found here.

The Wellion CALLA Light blood glucose meter is used with the Wellion CALLA Blood Sugar Teststrips.
The DIABASS - diabetes diary software is compatible with this meter (works without interface cable - manual input of data). It is possible to use a separate USB cable for data transfer, depending on the device. Our customer service will be happy to advise you. The patient version of DIABASS6 is free of charge and can be downloaded from https://www.diabass.de.
Before- and after-meal-marker
Order now