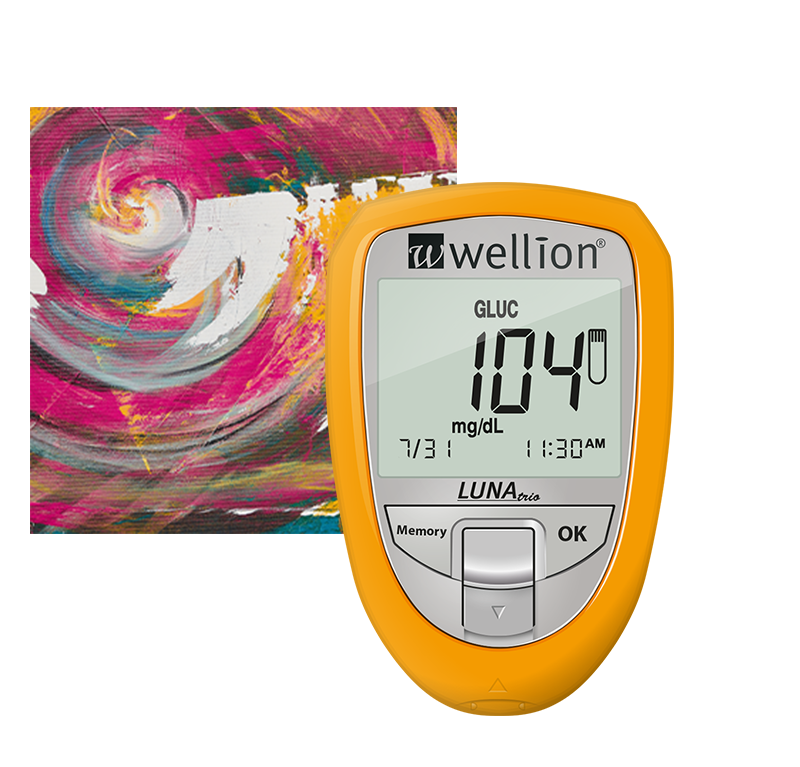 Blood Glucose Meter
accurately measures blood sugar, total cholesterol and uric acid
Wellion LUNA Trio meter for blood glucose, cholesterol and uric acid
Convenient measurement with only one drop of capillary blood
Make lifestyle changes visible, recognize secondary diseases in time
With the Wellion LUNA Trio meter you can measure your blood sugar level safely and reliably. Optionally, you can also measure your cholesterol and uric acid levels - the Wellion LUNA Trio System offers all three options. Depending on the parameters, different Wellion LUNA test strips are required for the measurement (GLU = blood glucose, CHOL = cholesterol, UA = uric acid) .
The handy size, an easily readable display and the non-slip nubs make the measurement easier and make the Wellion LUNA Trio measuring device a reliable companion in all situations. With the eject button you can dispose of used test strips after the measurement without contact.
Thanks to research and development work, MED TRUST has succeeded in making blood glucose measurement possible at a hematocrit value of 25-60%. This new test strip technology guarantees precise measurement results with different blood consistencies - a plus in safety!
In addition, average blood glucose values for 7, 14, 21 and 28 days can be called up. The regular evaluation of the average blood glucose values enables the improvement of the therapy and helps to ensure that the right treatment measures are taken. The memory contains the last 360 blood sugar readings, the last 50 cholesterol readings and the last 50 uric acid readings.

The exact handling of the Wellion LUNA Trio blood glucose meter can be found in the booklet in our download area.

The Wellion LUNA Trio blood glucose meter is used with the Wellion LUNA Blood Sugar Teststrips, the Wellion LUNA Cholesterol Teststrips and the Wellion LUNA Uric Acid Teststrips.

The DIABASS - diabetes diary software is compatible with this meter (works without interface cable - manual input of data). It is possible to use a separate USB cable for data transfer, depending on the device. Our customer service will be happy to advise you. The patient version of DIABASS6 is free of charge and can be downloaded from https://www.diabass.de.
Measures Glucose, Cholesterol and Uric Acid
Order now