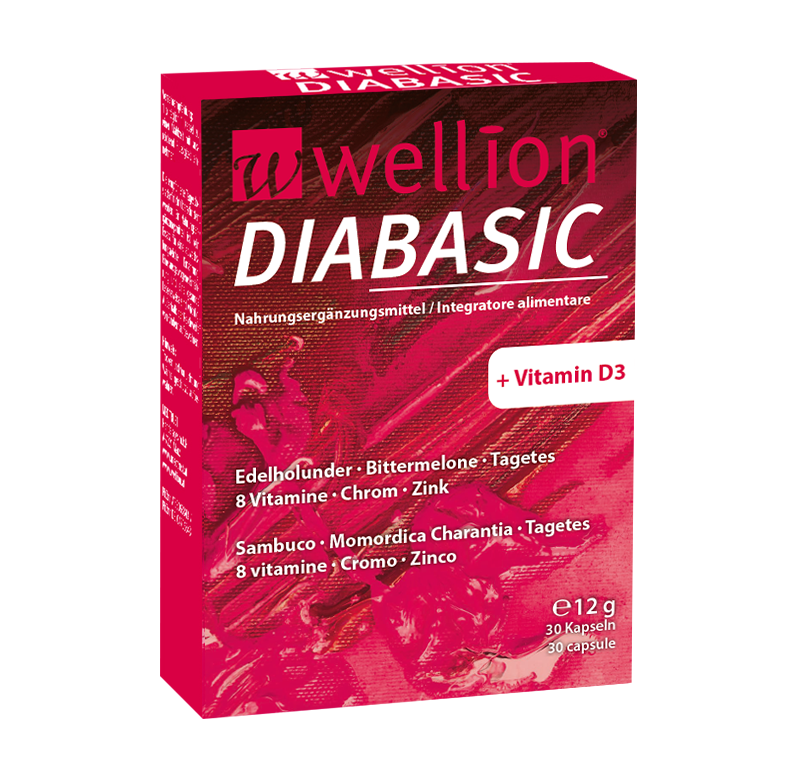 Wellion DIABASIC
Elderberry & Momordica Charantia & Tagetes
8 Vitamins & Chromium & Zinc
Food supplement
with elderberry & bitter melon & Tagetes
Vitamin D3 and 8 other vitamins, chromium & zinc

CHROMIUM helps to maintain a normal blood sugar level.
ZINC contributes to a normal carbohydrate metabolism.
VITAMIN D contributes to a normal function of the immune system.

Wellion DIABASIC capsules are easy to take, have a neutral taste and are easy to swallow.

Suggested Use: Unless otherwise recommended, take 1 capsule daily with a meal with a little liquid.
Packaging unit: 30 capsules

Ingredients (mg and μg/capsule-NRV%):
Elderberry berry extract: 110mg, of which polyphenols: 27.5mg, of which anthocyanidins: 5.5mg, vitamin C (L-ascorbic acid, coated): 80mg - 100%, bitter melon fruit extract: 50mg, vitamin E (D-alpha-tocopheryl acetate): 12mg - 100 %, zinc (zinc oxide): 10mg - 100 %, pantothenic acid (calcium D-pantothenate, vitamin B5): 6mg - 100 %, Lutein (from Tagetes flower extract (Tagetes erecta L.)): 2mg, Vitamin B6 (pyridoxine hydrochloride): 1.4mg - 100 %, Vitamin B1 (thiamine mononitrate): 1.1mg - 100 %, Vitamin A (retinyl acetate): 800μg - 100 %, Folic acid (pteroylmonoglutamic acid): 200μg - 100 %, Chromium (chromium(III) chloride): 40μg - 100 %, Vitamin D3 (cholecalciferol) 1000 IU per daily dose: 25μg - 500 %, Vitamin B12 (cyanocobalamin): 3μg - 120%.
Bovine gelatine (capsule shell): 77mg, cellulose (carrier): 30mg.
Wellion DIABASIC capsules are easy to take, have a neutral taste and are easy to swallow. Food supplements are not intended to replace a balanced and varied diet. Balanced nutrition and a healthy lifestyle are important. Do not exceed the recommended daily intake.
Order now