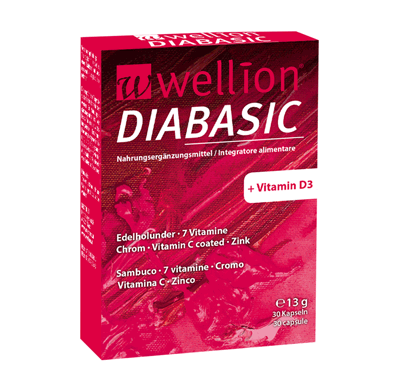 Wellion DIABASIC
Elderberry & Momordica Charantia & Tagetes
Vitamin D3 and 8 other Vitamins & Chromium & Zinc
Wellion Diabasic - Food supplement

Elderberry & Momordica Charantia & Tagetes
Vitamin D3 and 8 other Vitamins & Chromium & Zinc

Wellion DIABASIC capsules contain Elderberry, Momordica Charantia, Tagetes, Vitamin D3 and 8 other vitamins, chromium & zinc.

CHROMIUM contributes to the maintenance of normal blood glucose levels.
ZINC contributes to normal carbohydrate metabolism.

Wellion DIABASIC capsules are easy to take as they are tasteless and easy to swallow.

How to take:
Unless recommended otherwise, take 1 capsule daily with some fluid at a meal.


Content: 30 capsules

Dietary supplements are not a substitute for a balanced and varied diet. A balanced diet and a healthy lifestyle are important. Do not exceed the recommended daily intake.


Find the Nutritional information here.