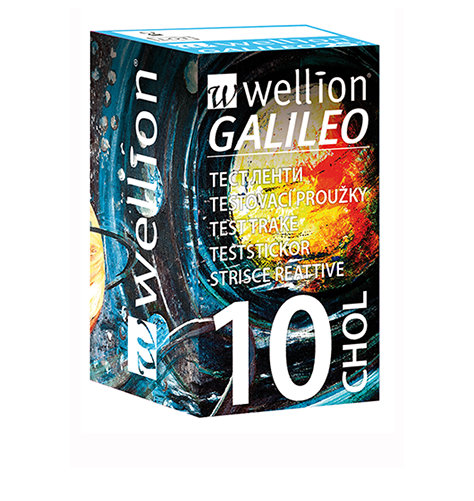 Cholesterol teststrips
to evaluate the progress of a cholesterol-lowering therapy
Wellion GALILEO CHOL test strips for cholesterol measurement
See progress in cholesterol-lowering therapy at home
The Wellion GALILEO CHOL cholesterol test strips are used together with the Wellion GALILEO GLU/CHOL meter to measure the concentration of blood cholesterol in capillary blood from the fingertips.
With the Wellion GALILEO GLU/CHOL meter and the appropriate cholesterol test strips, you can conveniently determine your total cholesterol at home. The measurement at home cannot replace the family doctor, but should make the success of the therapy (nutrition and exercise) and your lifestyle changes visible in a motivating way, especially in addition to the regular check-ups.
Handling
Remove the Wellion GALILEO Cholesterol Test Strip from the foil. Insert the test strip into the meter to turn it on. The display shows the "Chol" symbol, the flashing blood drop symbol and the test strip symbol.
Press the lancing device (with a fresh lancet) at the side against the fingertip and press the release button to prick and obtain the blood drop.
Now hold the tip of the test strip at a slight angle into the blood sample. The test strip sucks the blood like a straw. The meter beeps to let you know when there is enough blood for the test. The display shows the countdown, and after 90 seconds the result is shown on the display.
Useful tips
Do not use expired test strips. Check the expiration date printed on the test strip foil and package.
Use the test strip immediately after removing it from the foil.
Do not use wet or damaged test strips.
Avoid direct sunlight and heat. Store the test strips in a dry, cool environment (not in the bathroom).
Dispose of the used test strip and the used lancet immediately after measurement.
Packaging unit: 10 pieces, test strips individually wrapped
Wellion GALILEO cholesterol test strips are plasma calibrated to facilitate comparison with laboratory results. They are intended for self-measurement by individuals at home or for use in medical facilities by qualified personnel.
Order now