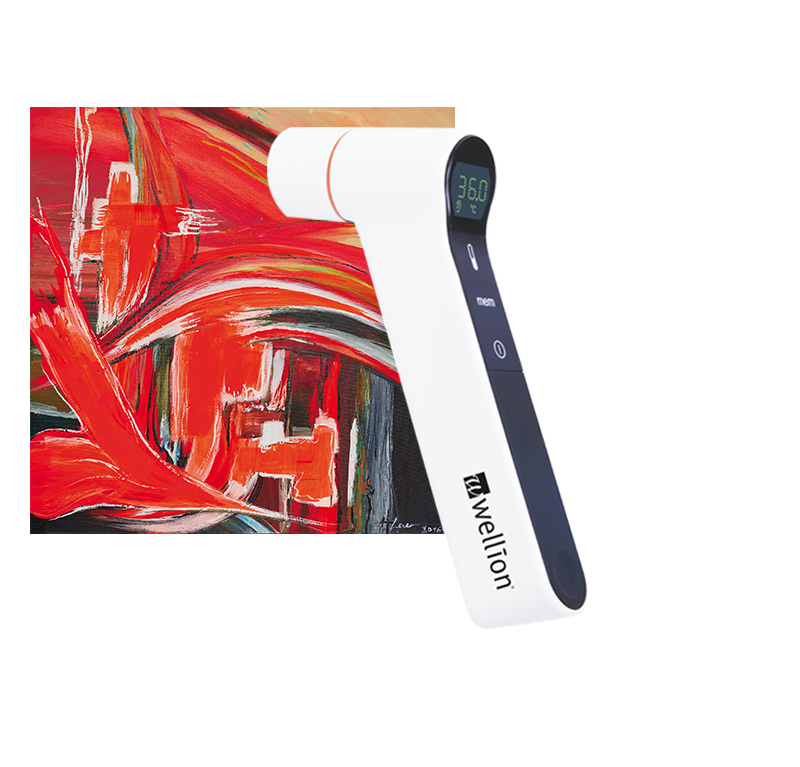 Wellion Infrared Forehead and Ear Thermometer
Contactless infrared measurement of body temperature
Wellion infrared forehead and ear thermometer
contactless measurement on the forehead
Quick and easy temperature measurement on ear and forehead

Wellion infrared thermometers are used to quickly and easily measure body temperature in the ear and forehead. Every body part radiates heat in the form of infrared rays. Ear thermometers measure these rays in the ear canal at the eardrum, as the temperature there is most similar to the temperature in the body. The measurement of the body temperature at the forehead can be done contactless (with a distance of up to 5mm in the middle of the forehead).
The Wellion Infrared Thermometer displays the temperature in color to indicate whether the measured temperature is within the normal range or how much it is elevated.
< 34°C, "LO" is displayed with a red background.
34°C - 37.1°C, means that the body temperature is normal. This is also indicated by a green backlight.
37.2°C and 38.1°C, means that you have a slight fever. This is indicated by an orange backlight.
38.2° and 43°C, means that you have a fever. This is indicated by red backlighting.
> 43°C, red backlighting and "HI" are displayed simultaneously.
Recommendation: This function is for reference only.
Further functions
the last 9 measured values can be viewed in the memory
Conversion from degrees Celsius to degrees Fahrenheit possible
Practical and economical design that does not require the use of a separate protective cap, thus saving costs
Sound can be switched on and off
automatic switch-off of the device after 30 seconds of non-use
2 pieces 1,5V AAA batteries
Colour: white
Dimensions: 31x175x72mm
Weight: about 77g (without batteries)
Measuring range: 34.0°C to 43.0°C
Object temperature: 0 - 93.2°C
Order now