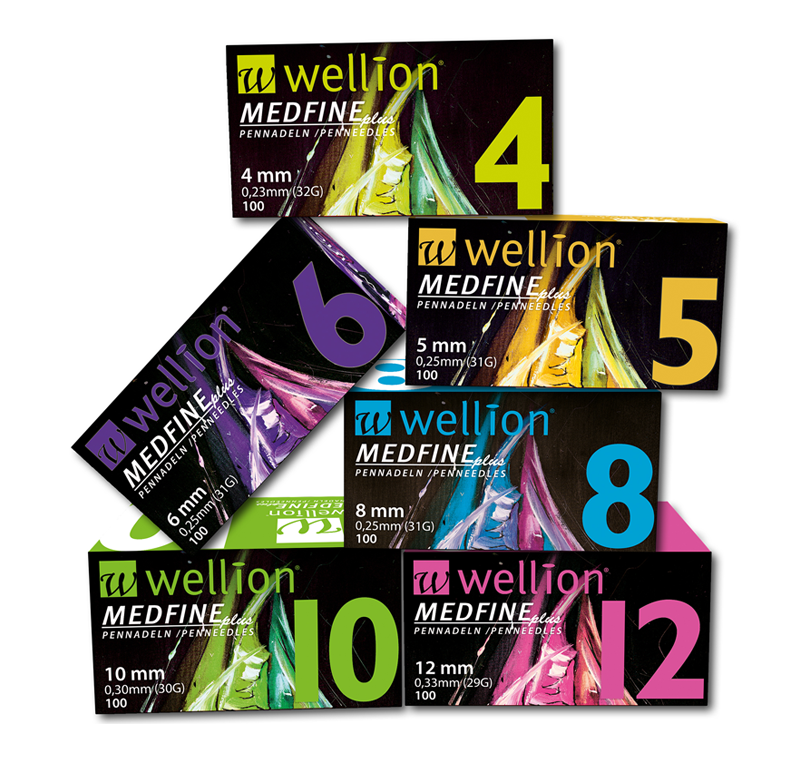 Wellion MEDFINE Plus Pen Needles
extra fine for a comfortable insulin injection
Wellion MEDFINE Plus Pen needles
extra fine and in different lengths
Comfort and safety - the Wellion MEDFINE plus pen needles have been specially developed to meet the requirements of optimal diabetes therapy. The extra fine, facet-cut needle, combined with the thin silicone coating for effortless gliding, offers maximum comfort. In addition, the expanded inner diameter allows an optimal insulin flow. The extra fine Wellion MEDFINE plus pen needles are available in different lengths (4mm, 5mm, 6mm, 8mm, 10mm and 12mm) to meet the individual needs of people with diabetes.

The protective cap of each individual pen needle has a specific colour according to the needle length, so that the different lengths can be easily distinguished from each other (colour coding). During diabetes training, the correct needle length for each insulin-injecting person with diabetes is determined together with the medical staff in charge.

Use a new pen needle for each injection!
With a fresh pen needle for each measurement, you yourself can ensure that the injection is as painless as possible. Pen needles have microfine tips which are damaged after only one use. With each further use, the pen needles become blunter and form small barbs. This makes further punctures more painful and can even damage the tissue, leading to lipohypertrophy. The sliding coating on the pen needle will be worn away with the first injection, reuse may cause unnecessary pain.
Pay attention to hygiene.
The pen needle is a sterile disposable product and should only be used once. With each injection, tiny traces of blood and tissue, which can only be seen under a microscope, remain on the pen needle. We therefore advise against using the pen needle more than once.
Available in the lengths 4mm, 5mm, 6mm, 8mm, 10mm and 12mm
Order now