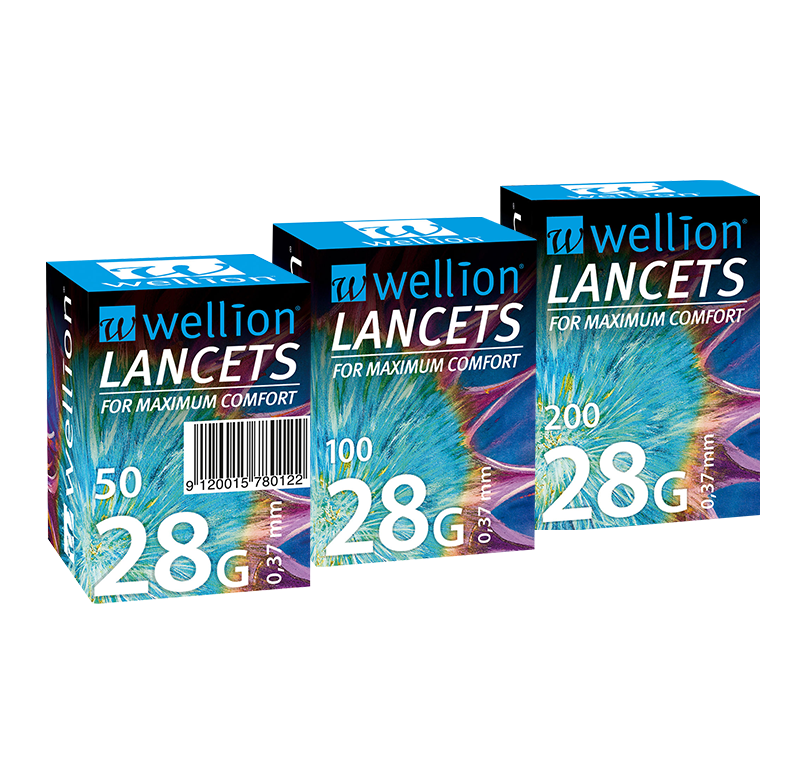 Wellion Lancets 28G
for gentle blood sampling
Gentle blood collection for measurement
Wellion lancets are used with the help of a suitable lancing device to gently obtain a drop of blood, for example for blood sugar measurement. The fine multiple cut at the tip of the lancets facilitates gentle penetration of the skin for a puncture that is as painless as possible.
The protective cap ensures that the lancet remains sterile until use. The lancet is inserted into the lancing device and then pressed into the skin by a spring mechanism for a short and painless puncture and then immediately withdrawn again.
An individual penetration depth can be selected on the lancing device. This allows you to decide for yourself which depth is most suitable for you to obtain a drop of blood in the right size. As large as necessary, as small as possible.
Use a new lancet for each puncture!
With a fresh lancet for each measurement, you can make sure that the puncture is as painless as possible. Lancets have microfine tips that are damaged after only one use. With each further use the lancets become blunter and form small barbs. This makes further punctures more painful and can even damage the tissue. Tissue fluid can also leak during blood collection, which can lead to falsified readings.
Pay attention to hygiene. The lancet is a sterile disposable product and should only be used once. With each puncture, tiny traces of blood and tissue, which can only be seen under a microscope, remain attached to the lancet. Therefore, we advise against using the lancet more than once. Infections can be the result.
Good to know: The diameter of a lancet is measured in Gauge "G". The higher the indicated number, the thinner or finer the lancet. Therefore a 33G lancet is thinner than a 28G lancet.
Suitable for all lancing devices except the Accu-Chek Softclix and Secureject Pro lancing devices.
Packaging units: 50, 100 and 200 pieces
Order now