Technical Data - Wellion MICRO-PUMP insulin pump
Excerpt of specifications | the complete list of technical data and notes can be found in the Wellion MICRO-PUMP manual
General specifications
Model number Pump: WELL19-00
Model number PDA: WELL19-00PDA
Size (L x W x D) Pump: 59,5 x 40 x 11,1mm
Size (L x W x D) PDA: 112 x 57,2 x 12mm
Weight Pump: 23g (without battery or insulin)
Weight PDA: 71g (without battery)
Reservoir Capacity: 2ml
Operating Temperature: 5 - 40 °C
Operating Humidity: 10-93% (noncondensing)
Storage Temperature: -40 - 55 °
Storage Humidity: 5-95% (noncondensing)
Water Resistance Pump: IPX4
Water Resistance PDA: IPX0
Alarm Prompts Pump: LED (yellow), Vibration
Alarm Prompts PDA: Audio, LED (yellow), Screen
History Storage Pump: Automatically Syncs to PDA
History Storage PDA: Browse by Screen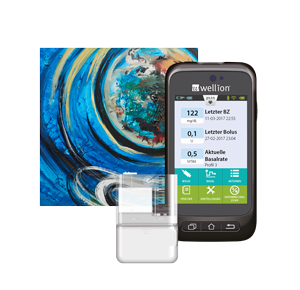 Display Pump: None
Display PDA: 3,2 inch color touchscreen
Battery Pump: 70 mAh
Battery PDA: 1000mAh
Low Reservoir Alarm Threshold: 10-50U, in increments of 5U, 10U by default
Auto-Off: Enable/Disable – Disabled by default
Auto-Off Time Range: 1-24 hours, 1 hour increments, 10 hours by default
Memory Behavior During Power Off: All settings and records retained after power off
Wireless Frequency and Bandwidth: Frequency: 2,402 GHz - 2,48 GHz / Bandwidth: 1Mbps
Wireless Modulation: GFSK
Radiated Power: -2dBm
Warranty: 4 Jahre
Delivery
Basal Rate: 0,025 - 35 U/h, programmed in increments of 0,025U/h
Basal Programs: 7 Basal Programs, each with 48 time segments
Maximum Basal Rate: 0,1-35 U/h, Default: 1,5 U/h
Base Basal Rate: 0,025-35 U/h, Default: 0,5 U/h
Temporary Basal Rate: U/h or % of basal rate, last 3 basal rates remembered, Default is Off
Bolus Size: 0,025 U-35 U, 3 Presets
Bolus Increment: 0,025/0,05/0,1/0,5/1 U, Default: 0,1 U
Max Bolus Size: 1-35 U, programmed in 1U increments, Default is 10U
Extended Bolus: Programmed in U or % of total bolus, Default is Off
Extend time: 0,5-8 hours in increments of 0,5 hr
Quick Bolus: On/Off, default is off
Quick Bolus Increment: 0,1-2U, Default is 0,1 U
Blood Glucose Meter
Measurement Range: 1,1-33,3 mmol/L (20-600 mg/dl)
Test time: 5 Seconds
Test Reminders: 7 Reminders, which can be repeated
HCT Range: 30 - 55%
Bolus Calculator
Bolus Calculator: On/Off, default is off
Carb Ratio: 1-150 g carb/U in 1 g carb/U increments, no default
Insulin Sensitivity Factor: 0,1-16,7 mmol/L/U in 0,1 steps, no default value
Negative Correction: On/Off, Default is On
Active Insulin Time: 2-6 hrs in 0,5hr increments, no default value
Bolus Delivery
Bolus Steps: 0,05 U
Volume per Step: 0,5 μl
Time Interval Between Steps: 1s
Infusion Speed per Minute: 3 U
Infusion Precision
At 1U/h delivery rate, the error was measured at 0,4%.
Occlusion Detection (Maximum Infusion Pressure)
When the pressure inside of the reservoir reaches a maximum of 100kPa±30kPa, the occlusion alarm will occur and the motor system will rewind automatically.
Occlusion Alarm Time
When a fluid obstruction is detected, an occlusion alarm occurs. An average of 2,5U of insulin will be delivered before this alarm appears.
Overdose/Underdose
The pump contains sensors whose sole purpose is to verify the infusion accuracy.
If the actual amount of delivery is more or less than the requested amount, this is called an overdose or underdose. The sensors in the pump can detect overdose or underdose situations and compensate automatically, or issue an alarm.
The maximum amount of bolus that can be delivered in a single fault is 0,25U.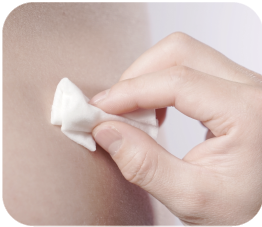 desinfect with
alcohol wipe first
PUMP BASE
Disposable
Stechable
Skin breathable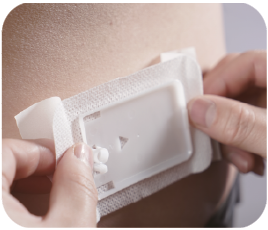 CANNULA
90° Soft Cannula
6mm / 9mm lenghts
Unique design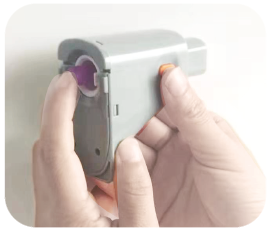 Infusion Sites
Abdomen, Upper arms, hips, tighs, Back Waist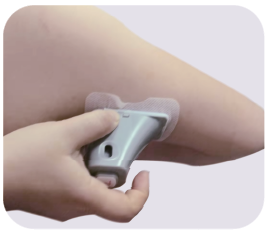 Do you still have questions or would you like support with the prescription for your Wellion MICRO-PUMP?
We are happy to help you.
office@medtrust.at or 02626/64190
Please feel free to request information material via our contact form.