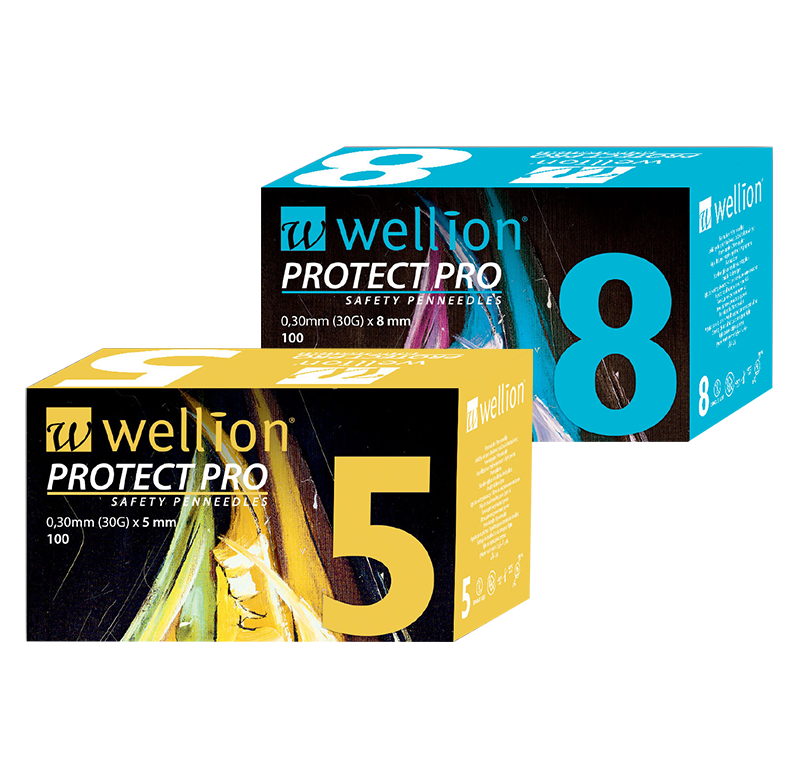 Wellion PROTECT PRO Safety Pen Needles
Locking mechanism prevents contact with the used needle
Wellion PROTECT PRO safety pen needles
extra fine and in different lengths
can prevent needlestick injuries
For safe and gentle injection
Safe insulin injection - no danger for needle stick injuries

Patented locking mechanism prevents reuse of the needle

Corresponds to EU Directive 2010/32 §4, Art. 7 and TRBA250

Extra thin needle with silicone coating for maximum comfort

Colour coding for easy and safe recognition of the needle legths

Compatible with all insulim pens - ISO 13485:2016

Needle length: 5mm or 8mm
Content: 100 pieces


Handling the Wellion PROTECT PRO safety needle
1. Remove safety seal
After removing the safety seal, the safety pen can be screwed onto the insulin pen (note: turn until the pen needle is firmly seated!)
2. BEFORE the insulin injection
An unused Wellion PROTECT PRO safety pen needle with the coloured cap still visible

The injection must be made at an angle of 90° into the skin (possibly stretch the skin)
Note: The needle must be fully inserted into the skin for the locking mechanism to lock up after use!

Only THEN start the insulin delivery!
3. AFTER the insulin injection
After using the Wellion PROTECT PRO safety pen needle, the coloured cap is NOT visible anymore! The locking mechanism is active and prevents needlestick injuries.
Tip:
Use different injection sites at different times of the day to avoid unnecessary pain and lipohypertrophies.
Order now